India unlock 4.0 guidelines: Metro services to resume from September 7
Unlock 4.0 Guidelines: The Union Home Ministry on Saturday issued the Unlock 4 guidelines under which metro trains, suspended since March 22 in wake of the coronavirus outbreak, will be allowed to resume services from September 7 in a graded manner, while public congregations of up to 100 people will be permitted from September 21. While the fresh guidelines focuses on reopening activities, lockdown in containment zones shall continue till September 30.
Apart from the resumption of Metro services, public gatherings including social, academic, sports, entertainment, political, cultural and religious, will be permitted from September 21 with a ceiling of 100 persons. Mandatory wearing of face masks, social distancing, provision for thermal scanning and hand wash or sanitisers will be required to hold such gatherings. Besides, open air theatres will also be permitted to open from September 21. Read in Malayalam, Tamil.
According to fresh guidelines, states and union territories will be barred from imposing local lockdowns outside the containment zones, without prior consultation with the Central government. No restriction shall be imposed on inter and intra-state movement of persons and goods, and no separate permission, approval or e-permit shall be required for such movements, the MHA reiterated in its guidelines.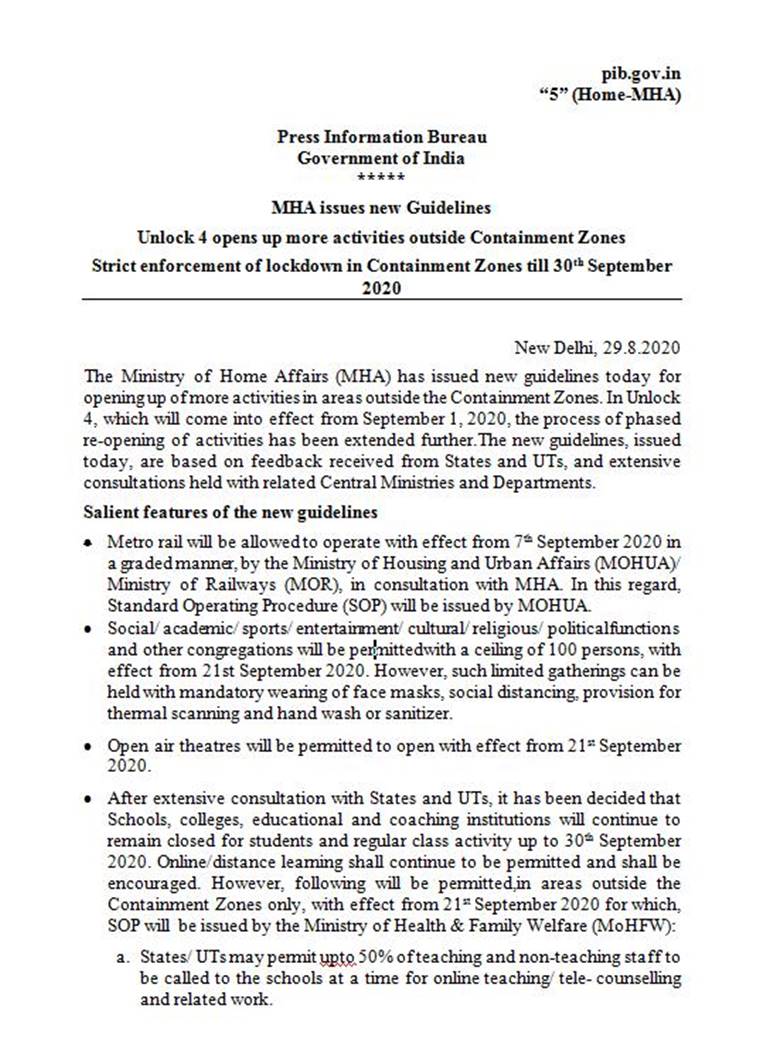 The Ministry of Home Affairs released the set of guidelines for 'Unlock 4' to be followed till September 30.
Also, schools and colleges will remain closed till September 30. However, states and union territories may permit upto 50% of staff to be called to school for online teaching related work. This will only be allowed for areas outside the containment zones with effect from September 21.
Students of classes 9 to 12 may also be permitted to visit their schools in areas outside the containment zones only on a voluntary basis for taking guidance from their teachers. This will be subject to the written consent of their parents or guardians, according to the guidelines.
Social distancing measures will continue to be followed throughout the country, including for shops that will need to maintain adequate physical distancing among customers.
The MHA has further advised vulnerable persons, including those above 65 and with co-morbidities, pregnant women, and children below the age of 10 years, to stay at home.
With India reporting 76,472 cases in the last 24 hours, the total number of coronavirus infections in the country crossed the 34 lakh mark to reach 34,63,973 cases on Saturday. This is the third consecutive day when over 70,000 cases have been recorded in the country. With as many as 1,021 deaths in the same period, the country's toll has reached 62,500.
Indian express